An Onwinges Production in association with: Terrio Productions, Ivovle TV, Bloomgarden Films, Contact Light films
Executive Producer
Jennifer W. Stein
Co- producers
Jennifer W. Stein
Robert P. Terrio
Ron James
Zachary Weil
With Travis Walton
Director
Jennifer W. Stein
Assistant Directors
Ron James
Ben Hansen
Travis Walton
Associate Producers
Peter Robbins
Ben Hansen
Gary Hilton
Ronald Williams
Stanton Friedman
Ron James
Brian Farell
Adam Stein
Zachary Weil
Associate Production Companies
Terrio Productions
Contact Light Films
Ron James Television & Ivolve TV
Bloomgarden Films
Camera operators
Bob Terrio
Jennifer W. Stein
Ben Hansen
Ron James
Gary Hilton
Garry Holloway
Jonathan Kovalick
Amy Gordon
Veronica Vertes
Sky La Fever
Otto Martin
Aerial drone photography
Gary Hilton
Editing
Zachary Weil
Bob Terrio
Jennifer Stein
Gary Hilton
Brian Farrell
Adam Stein
Ron James
Music
Gabriel Hayes
Artist original art work provided by
Michael Rodgers
Dwayne Smith
William Keeble
Costume Design & Construction
Ron James
Jennifer W Stein
Veronica Vertes
Michael John Hughes
Otto Martin
Wig and make up, Veronica Vertes
Set Design & Construction
Ron James
Otto Martin
Michael John Hough
Jennifer stein
Veronica Vertes
Grips
Veronica Vertes
Michael John Hough
Jennifer W. Stein
Otto Martin
Props provided by
Ron James and The Lab Studio
The Lee West Egg chair provided by
Katelyn & Brain Blades
Jennifer Stein medical tools
Story Board notes and drawing
Ron James
Jennifer Stein
Dan Murphy
Actors
Travis Walton played by himself
Travis Walton at 21, Jeff Pennington
Alien one, Tim Hicks
Alien two Aura Gutierrez
Nurses, Jennifer Stein, Veronica Vertes
Doctor: Otto Martin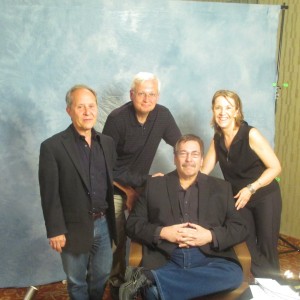 Co-producers Bob Terrio & Jennifer Stein with associate producer Peter Robbins and Lee Speigel from the Huffington Post on set in Philadelphia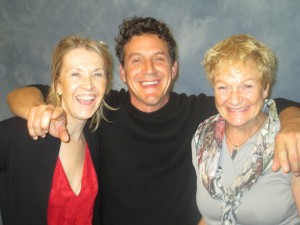 Filmmaker James Fox with Jennifer Stein and publicist Bambi Dudley on set in Philadelphia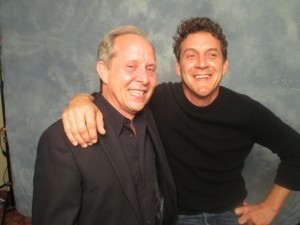 James Fox and Peter Robbins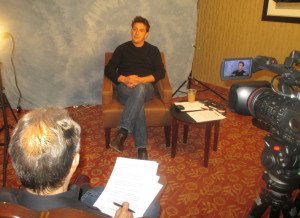 Peter Robbins interviews James Fox on the set in Philadelphia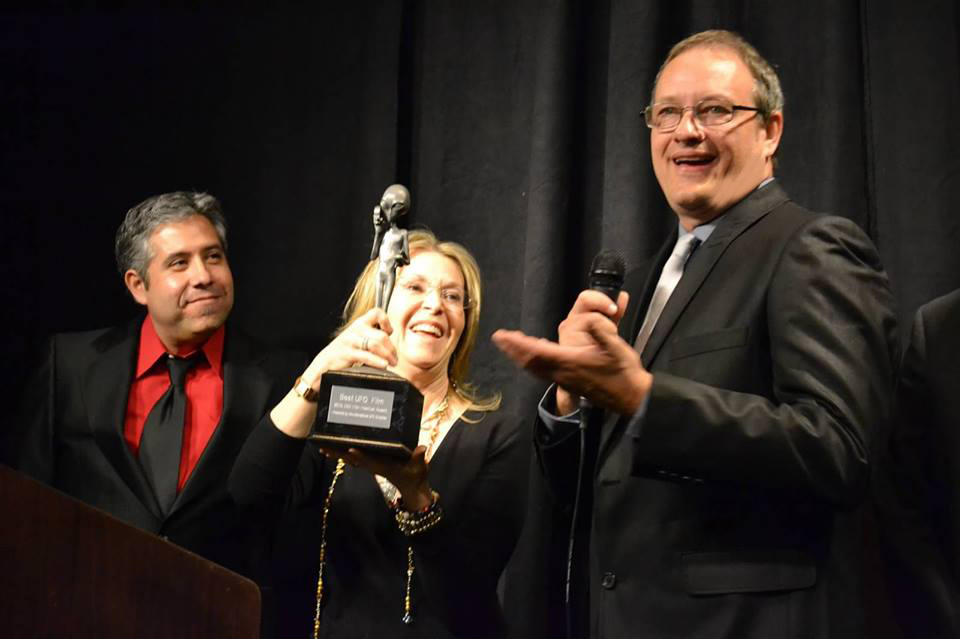 Jennifer invited everyone up onstage to accept the award with her at the International UFO congress EBE film award event.[vc_single_image image="1351" Alejandro Rojas, Master of Ceremonies for the International UFO Congress's EBE Film Festival Awards presents Ron James and Jennifer Stein with their second EBE award for the night, winning the film Travis – The True Story of Travis Walton, on February 20, 2015.
Ron and Jennifer look at each other with amazement as this was the second time Ron and Jennifer had won two EBE film festival awards back to back.
Ron and Jennifer produced the Disclosure Dialogues in 2012 which also won two EBE film festival awards back to back 3 years before. The first film was for the Best long version film submission for that season, and the second award was the people choice award as the best film screened in the entire film festival which takes place over 5 days during the UFO conference.
It is very unusual to win two awards at the same festival. It's like winning best picture and best screenplay at the academy awards. The IUFOC is the largest and only film festival and UFO conference in the world. Their awards are hard to get and highly coveted due to the unique nature of this field and the sophisticated audience who know how to sort thru the wheat from the shaft. This meant this was their 4th award in under 3 years. As Jennifer passed the microphone to Ron because she was speechless, Ron turns to the audience to thank them for their vote of confidence in their team effort, with several other talented people to bring Travis's story to life in a new way.
Special thanks to
Stanton Friedman, nuclear physicist
Richard Dolan, author , UFO researcher
Travis Walton, author, presenter,
Marlin Gillespie, 1975 Holbrook Arizona Sheriff
Cy Gilson, 1975 polygraph expert for Arizona
Linda Moulton Howe, Founder Earthfiles, author, researcher
Lee Speigel, writer, and researcher Huffington Post
Jan Harzan, President, MUFON International
Peter Robbins, author, investigative researcher
Alejandra Rojas, Open Minds writer & researcher
Kathleen Marden, author, Captured: The Betty & Barney Hill Incident
James Fox, Investigative filmmaker, and UFO researcher
Steve Bassett, a lobbyist for UFO disclosure
George Knapp, Investigative Journalist, KLAS-TV Nevada
Dr. Lynne Kitei, physician, filmmaker, presenter
William Keeble, digital artist
Ben Hansen, Fact or Faked: Paranormal Files, SyFy Channel.
The other Boys from the crew we interviewed
Ken Peterson
John Goullette
Steve Pierce
Mike Rogers
Road support on shooting locations
Mark Crepps
Veronica Vertes
Donna Smith
Bambi Dudley
Joseph Seymour
Ken Miller
Cookie Stringfellow
Gary Hilton
Research support provided by
Mathew Barger, Publisher Tribune News and Silver Creek Herald Holbrook, AZ
Francine Payne, managing editor Tribune News and Silver Creek Herald
Navajo County Historical Society – Holbrook, AZ
Gary Hilton
Walter Cronkite School of Journalism -Phoenix, Arizona
The Holbrook Chamber of Commerce
Michael Nilsson
David Bhadt
Brian Farrell
Peter Robbins
Bob Terrio
Adam Stein
Zachary Weil
Filmed in Arizona at these locations
Best Western Saw Mill Inn, Heber, Arizona, parking lot
Holbrook County Courthouse and Navajo County Historical Museum
Sitgreaves National Forrest- Rim road and Turkey Springs region
Aliberto's- Heber, AZ
Additional locations
Erie, PA-Pennsylvania MUFON conference
Cherry Hill, NJ- Crowne Plaza Hotel- MUFON Symposium
Special thanks to the Navajo County Search and Rescue, Inc. Arizona
Mike Monahan
Ian McKernan
Lori McKernan
Erik McKernan
Amy Martin
Annie Anderson
Bob Hovey
Renee Adolph
Steve Adolph
Jennifer Johnson
Margaret Boris
Pete Boris
Pat Stevens
Joyce Alexander
Don Alexander
Laurie Palazzolo
John Ross
Gary Weesner
Dan Groebner
Debra Allen
Dennis Ross
Judy Ross
Dennis Ross
Debra Jones
Legal writing
Gary Hilton
Lloyd Remick esq.
Lewis Gold esq.
Katilyn O'Neil esq.
In April 2015, Jennifer W. Stein and Ron James worked on re-enactment studio shots in Ron's Studio, the LAB in Hawthorne, CA to improve upon the abduction scenes. Here is a glimpse of these scenes.
Our actor Jeff did a fantastic job portraying Travis's experiences.