Would you like to host a film screening?
Certain public screenings of this film are permissible with the producer's agreement for nonprofit organizations, UFO conferences and special film festivals.
Email the producer, (Jennifer W. Stein- Onwinges@gmail.com.) providing:
Your name

Your email

Your

organization's name and

website

Ti

me, date,

and

place

of

screening

Admission

(if charged)

to screening
Once permission is granted, the screening fee is $100.00 paid 30 days in advance by check to Onwinges Productions, LLC. Please note the screening date and organization on your check.
Mail to:
Jennifer W. Stein
228 Spruce Tree Road
Radnor, PA 19087
Your screening contract requires you to download our custom promotional materials from the TRAVIS website and use them in your publicity. Promotion is the best way to ensure your turnout. You must forward us the details on your screening for posting at our website. Please embed our official TRAVIS trailer (https://www.youtube.com/watch?v=6HjC28s_5nQ) and our website link (www.traviswaltonthemovie.com.) into your screening publicity website, your website, social media pages and print materials. You will find it easy to download posters, postcards, website banners, and graphics.
Download the electronic press kit (EPK) here: https://traviswaltonthemovie.com/electronic-press-kit/
Download digital media here:
https://traviswaltonthemovie.com/digitalmedia/
Download print media here: https://traviswaltonthemovie.com/print-media/
Reviews: https://traviswaltonthemovie.com/reviews (including one from Apollo astronaut Edgar Mitchell)
Awards here: https://traviswaltonthemovie.com/awards
For more tips on promoting your screening, ask for our pamphlet "Getting the Word Out." Email producer Jennifer W. Stein at onwinges@gmail.com. Producer-Director Jennifer W. Stein may be available to chat via Skype after your screening.
TRAVIS DVDs are available for sale at $10 (retail $20) with a 10 DVD minimum.
This  is  a one-time screening permission.  No distribution rights accompany this contract.  Digital duplication, streaming, or recording of the film are strictly prohibited.  The film is considered a live performance.  TRAVIS bears its own copyright and any  violation of these agreements is punishable by legal fines imposed by international entertainment trade  agreements.
Sincerely.
Jennifer W. Stein
Producer Director, Travis: The True story of Travis Walton
Questions?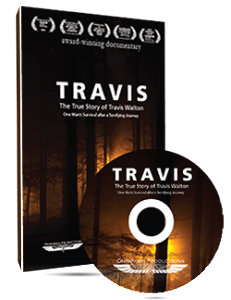 Payments must be paid 30 days in advance.
Please mail your completed form and check to:
Jennifer W. Stein
228 Spruce Tree Road
Radnor Pa 19087.
Make check payable to Onwinges Productions.